Review: Jesus Outside the Lines: a way forward for those who are tired of taking sides
Tyndale House Publishers
2015
Refreshing, a valuable encouragement, insightful approach, a gem.
Those descriptions come from the endorsements presented at the start of this book.
I have to admit when I read those very complimentary words, I resolved to read something less than I hoped for.
Cynical? Yes, and very wrong.
This book lives up to all those kind words.This is for the person who is indeed tired of having to take sides within and without the assembly of Christian people.
Most of us already know the conversation and rhetoric has gotten out of control in political and ethical matters, not to mention matters of religion.
Sauls enters the fray with a voice of what most would call a voice of reason.
Actually, it more a voice of a peacemaker or counselor.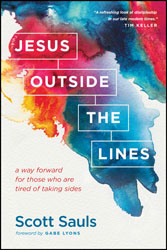 His book approaches the lines (battle lines in some cases) within the context of Jesus and His ways, not from a particular set of traditions.
"The more we move outside the lines of our traditions and cultures, the more we will also be moving toward Jesus." (xxi)
Cooling the rhetoric and looking for ways to build bridges and not burn them is his plan (xxvii) which I think he has accomplished well in a little over 200 pages.
One of the chapters has to do with hypocrites in the church and of course he starts from Gandhi's now famous statement comparing Jesus with His followers.
You will like the way Sauls handles that discussion without avoiding the obvious truth of Gandhi had to say.
This and several discussions were very helpful in my opinion.
I do recommend this book to you.
He includes a short section for the atheist who may decide to read this book because the atheist, too, is tired of taking sides.
That, I think, is a wise move since the atheist population has some valuable input to the discussion as well.
The list Sauls closes this book comes from Daniel Fincke's "Top 10 Tips for Christian Evangelism (From an Atheist)."
Quite honestly, it's good set of tips.
This book was provided by the publisher in exchange for a review.